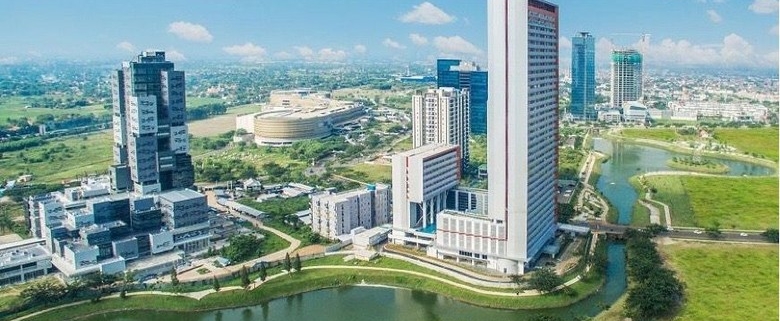 By Annabel Noor Asyah
Who doesn't know about Alam Sutera? One of the most popular new townships which located near Jakarta, Indonesia. Alam Sutera is known as an integrated property developer which focusing on the development of residential areas, commercial districts as well as the management of industrial areas. This new township built in 1994 on a 800 hectares piece of land. It was an integrated area that located in Serpong, Tangerang. After more than 20 years become the part of property sector in Indonesia, now Alam Sutera had launched 37 residential clusters and 2 apartments building in the township. Each cluster consists of 150-300 houses that is supported with a range of premium facilities such as education, entertainment, healthcare centers as well as one stop shopping area. As time passed by, now Alam Sutera has been evolving their business by developing Suverna Sutera, another township project which has been hold the development permit of 2.600 hectares of land in Pasar Kemis, Tangerang.
To most people, developers' way of work always being correlated to a greedy business development process. Developers always intended to aim the highest profit by selling endless property units. Even sometimes, developer is not paying attention to current spatial planning regulation that applicable in the development area just to get their financial capital back as soon as possible. The carelessness of spatial planning resulted in many damage such as the degradation of land quality, the decreasing of environmental and social aspects, etc. How about Alam Sutera? Does this stereotype apply to their the business process?
It is well-known that there are so many aspects that have to be considered when planning a new township such as environmental, social, and also economic aspect. The representation of Alam Sutera, Mr. Soelaeman, in one opportunity talked about how Alam Sutera development aiming to achieve environmental sustainability by implement ecological planning in their business development. The developer was trying to combine many aspects to their development such as design, environmental, and social to their long term plan.
In implementing their development projects, Alam Sutera had their own design principles which are Focus Inward, Create Special Gateway, Town Center in the Heart, Residential Areas Surround the Center, and Direct Traffic to the Perimeter. Those design principles were made to reinforce the structure and identity of the community with extensive landscaping on major streets and open spaces and create an unifying urban design treatment in the Town Center.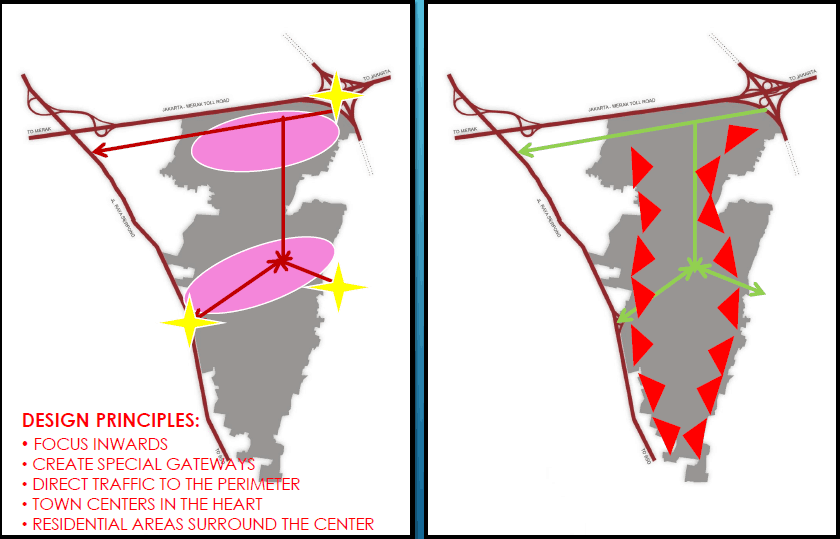 Based on those principles, Alam Sutera have a masterplan that has to be reviewed every 5 to 10 years in order to improve the quality of Alam Sutera. Masterplan reviews also intended as a reaction to internal and external changes towards a better future of Alam Sutera.
Design concept of Alam Sutera is garden city which accentuate the park and open spaces with an easy structure to access every parts of the area. A good development is indicated by how the area is well understood by public. Alam Sutera uses recreational facilities, parks, and open space landscapes to communicate their development goals to the public. Alam Sutera mostly placed their recreational facilities, parks and open space on the heart of their development areas. They also had their own road planning principles which are hierarchy road system; loop system and minimizing crossing activity; avoid ribon development and consider about the road's capacity. The implementation of their road planning principles can be seen on this picture :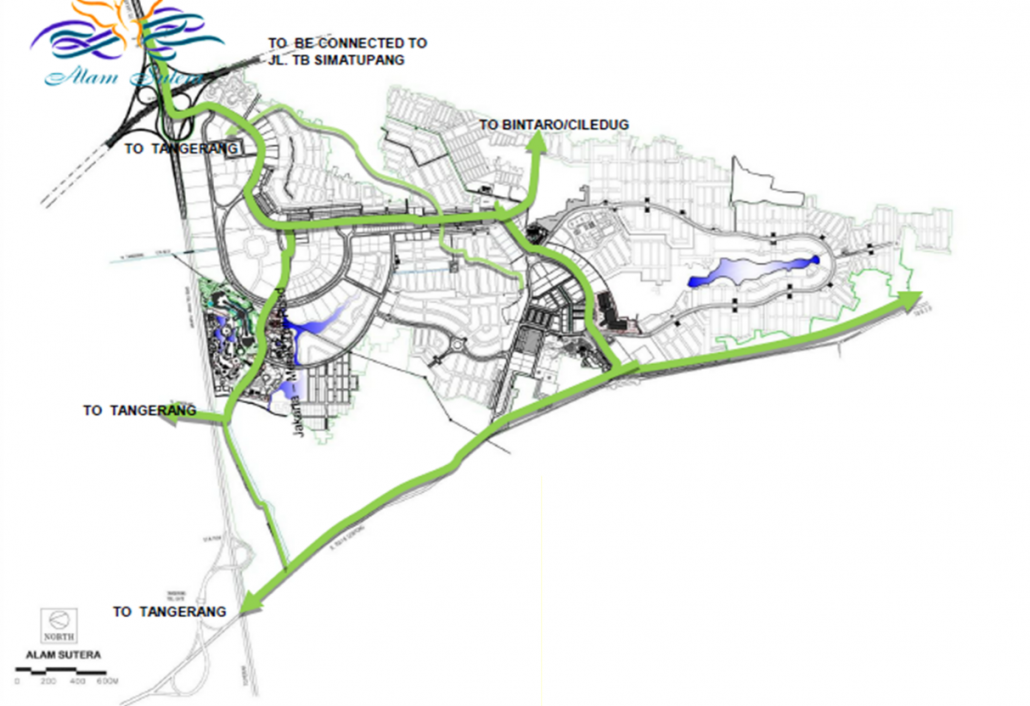 Alam Sutera concerns about the environmental sustainability as well. As stated on the company website, Alam Sutera has become the pioneer in green living and dynamic icon of urban development and has been committed to build a better life for the community. It sounds like a promotional template for public relation officer in any other property developers. But according to Mr. Soelaeman, in the beginning stage of Alam Sutera development, they started with the vision about how to preserve the land carrying capacity in Serpong. The reason behind that mission was the fact that Serpong area was prone to flood.
The real action that took by Alam Sutera was the development of green tunnel, which consists of thousand trembesi trees that contribute to produce fresh air and give such an aesthetic view to the township. Trembesi trees have the ability to absorb carbon dioxide and land water. The presence of large trees is also an alternative to filter the penetration of the sunlight, so it doesn't directly hit the earth surface. The heat that released by the earth will also be absorbed first by the tree canopy before being released back into the atmosphere. Thus, the ambient temperature can be maintained. The presentation of green area in Alam Sutera is 40% from the total area. That number of fact shows the real commitment of Alam Sutera to create a health living environment by implementing ecological planning concept. This green tunnel became very iconic to Alam Sutera.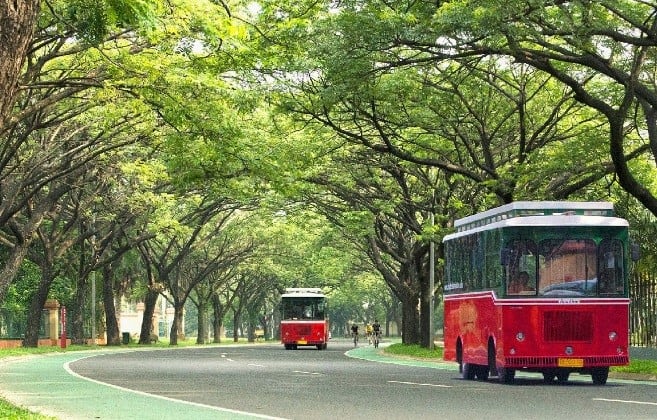 Another story about the development of Alam Sutera new township is about how they relocate the local people who initially lived there. Sometimes, developer have to displace a group of people who encroach their land with a minimum compensation. And later after that, the local people will do the protest and demand a high compensation for their displaced houses. Does it also happen to Alam Sutera? According to the explanation of Mr. Soelaeman, in the beginning of the development, Alam Sutera have excellently managed to relocate a group of local people who initially lived on their land that has been plotted to be the residential area. There was no other options for Alam Sutera except to relocate and compensate them. Alam Sutera provide the local people a piece of land which located near the Alam Sutera development site. Moreover, Alam Sutera also provide them with basic facilities to ensure that they live in harmony. Some of the relocated people also had the opportunity to work with Alam Sutera.
From the explanation above, it can be concluded that Alam Sutera development process is not only aiming to get the highest profit, but also paying attention to the environmental sustainability through their design concept. Alam Sutera as one of the biggest developer in Indonesia also considering the livelihood of local people who affected by the development. Those actions should be considered as they way of how Alam Sutera implementing the spatial planning regulation.

References
Alam Sutera. 2019. "Planning Principle: Ecological Planning for Environmental Sustainability". Alam Sutera
Gumelar, Ofi Sofyan. 2017. "Blusukan Seru di Alam Sutera". https://www.kompasiana.com/ujangkosim/58a8f256e322bdfe3700554f/blusukan-seru-di-alam-sutera?page=all
Siahaan, Surtan. 2018. "Alam Sutera, Nyamannya Hidup di Kawasan Hijau". https://www.kompasiana.com/surtansiahaan/5aee59ebdd0fa813e54c15e2/alam-sutera-nyamannya-hidup-di-kawasan-hijau?page=all
https://www.handalselaras.com/wp-content/uploads/2019/10/caaaa322-b7c8-43fc-911d-297eaf3568d8.jpeg
521
780
adminhandal
https://www.handalselaras.com/wp-content/uploads/2022/09/KHS-Logo-2-300x126.png
adminhandal
2019-10-17 22:19:27
2023-02-23 23:54:20
Alam Sutera and Their Spatial Planning Principles